Awards and Testimonials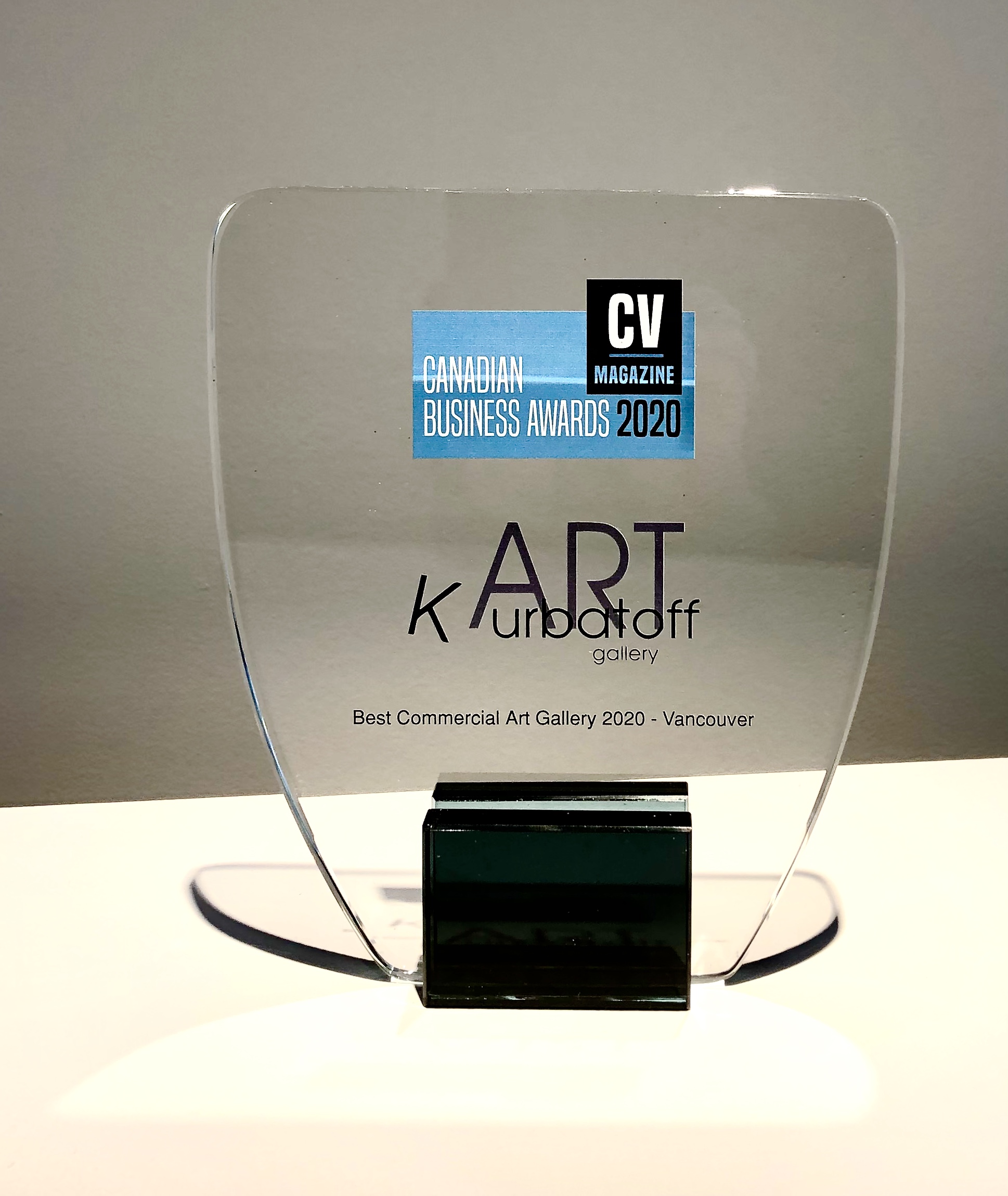 The year of 2020 started with exciting news for Kurbatoff Gallery. We have been chosen by Corporate Vision to receive a Canadian Business Award – Best Commercial Gallery Vancouver 2020.

The winners are decided by a combination of votes gathered from Corporate Vision Magazine network of respected industry partners and their own rigorous in-house research, performed by the dedicated network of industry insiders and corporate specialists. Each award is carefully scrutinized, from a nominee's region to their performance over the past 12 months, their commitment to innovation, their methods and even their competition to ensure that only the most deserving firms walk away with one of these prestigious trophies.

With this Award in our hands, we will continue to strive for supporting and promoting Canadian artists, and hope for many more years of success on this lifetime journey.

Here is the link to the current issue of Canadian Business Awards 2020: Best Commercial Gallery Vancouver 2020.


TESTIMONIALS
"The Owner & Director, Elena Kurbatoff, is knowledgeable, accommodating and professional.
Kurbatoff Gallery is one of my favourite places to visit on South Granville's Gallery Row. Elena has personally introduced me to a number of her talented artists and their compelling art works and art practices. I am happy to support these great artists, and I am proud to hang their art pieces in my home and corporate offices.
Thank you Elena, for your wonderful customer service and for the pleasurable experience of visiting your exceptional gallery."
Gordon R. Diamond, O.C., O.B.C.
Chairman of West Coast Reduction Ltd.

"Kurbatoff Gallery is an incredible gallery. The gallery owners, Elena and Constantine, have achieved that delicate balance between quality and price that makes art available to a broad audience. My office and home are enhanced by the numerous pieces purchased from Kurbatoff Gallery. If you have not been to the gallery I highly recommend a visit. You will not be disappointed."
Richard Bell | Partner BELL ALLIANCE LLP

"I want to congratulate Kurbatoff Gallery on being honoured with the 2020 Canadian Business Award in the category of Best Commercial Gallery, Vancouver. This is so well deserved and I am thrilled for Directors Elena and Constantine Kurbatoff, their staff, and the many impressive visual artists represented by Kurbatoff Gallery. For many years, Kurbatoff Gallery has generously supported Arts Umbrella's mission to be Canada's leader in arts education for young people through our flagship fundraising event and art auction, Splash. The commitment from Kurbatoff Gallery and their artists has helped us to raise important funds to ensure that Arts Umbrella can inspire creativity in our youngest citizens, especially those in our community who would not otherwise be able to access high quality arts education programs. We applaud Kurbatoff Gallery for your commitment to excellence in all that you do!"
Paul Larocque
President and CEO of Arts Umbrella

"As an artist I have been lucky enough to be represented by The Kurbatoff Gallery for over 12 years. Little did I know when I joined them… I am very much aware that the sales aspect of art is not always aligned with the perspective and goals of the artist. Creating art is such a personal heartfelt and vulnerable expression. Nevertheless I always felt my creative space to be protected, respected and cared for by the Kurbatoff Gallery. Their integrity, gentle guidance, encouragement and genuine love for my work fuelled my development as a painter. It gave me direction and confidence. Over the years our collaboration grew into a team effort with a long term mutual vision behind it, which has resulted in a constant and steady growth over the years- filled with hard work, joy, laughs and creativity! Grateful to be a part of the 'Kurbatoff family'."
Marleen Vermeulen, artist.

"My experience with Kurbatoff Gallery has been very positive and rewarding. For more than 15 years Constantine and Elena have guided and supported the work I do. Our relationship is built with trust. I value their judgement, input and friendship."
Chris Charlebois, artist.